Makkah Al Mukarramah

topographic map

Click on the map to display elevation.
About this map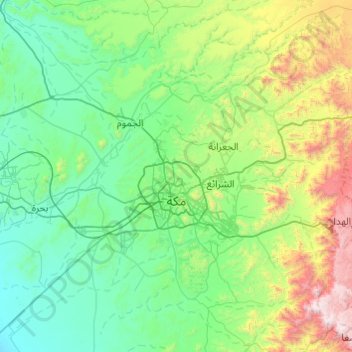 Minimum elevation: 17 m
Maximum elevation: 2,594 m
Mecca is located in the Hejaz region, a 200 km (124 mi) wide strip of mountains separating the Nafud desert from the Red Sea. The city is situated in a valley with the same name around 70 km (44 mi) west of the port city of Jeddah. Mecca is one of the lowest cities in elevation in the Hejaz region, located at an elevation of 277 m (909 ft) above sea level at 21º23' north latitude and 39º51' east longitude. Mecca is divided into 34 districts.