Medina

topographic map

Click on the map to display elevation.
About this map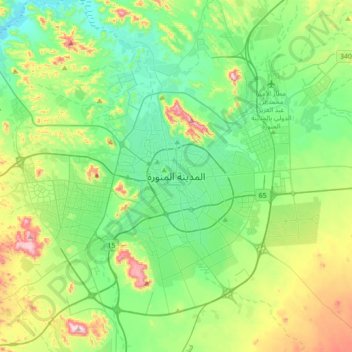 Minimum elevation: 542 m
Maximum elevation: 1,088 m
Medina is located in the Hejaz region which is a 200 km (124 mi) wide strip between the Nafud desert and the Red Sea. Located approximately 720 km (447 mi) northwest of Riyadh which is at the center of the Saudi desert, the city is 250 km (155 mi) away from the west coast of Saudi Arabia and at an elevation of approximately 620 meters (2,030 feet) above sea level. It lies at 39º36' longitude east and 24º28' latitude north. It covers an area of about 589 square kilometers (227 square miles). The city has been divided into twelve districts, 7 of which have been categorized as urban districts, while the other 5 have been categorized as suburban.