Mount Everest

topographic map

Click on the map to display elevation.
About this map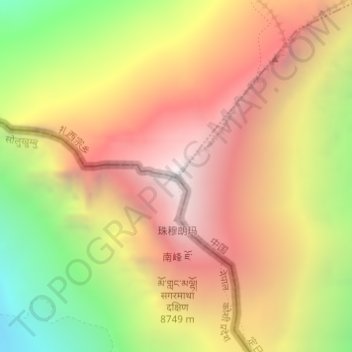 Minimum elevation: 6,594 m
Maximum elevation: 8,849 m
Mount Everest (Nepali: सगरमाथा, romanized: Sagarmāthā; Tibetan: Chomolungma ཇོ་མོ་གླང་མ; Chinese: 珠穆朗玛峰; pinyin: Zhūmùlǎngmǎ Fēng) is Earth's highest mountain above sea level, located in the Mahalangur Himal sub-range of the Himalayas. The China–Nepal border runs across its summit point. Its elevation (snow height) of 8,848.86 m (29,031.7 ft) was most recently established in 2020 by the Chinese and Nepali authorities.