Comoro Islands

topographic map

Click on the map to display elevation.
About this map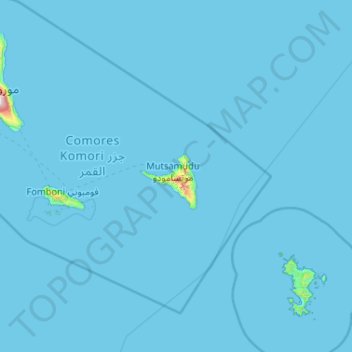 Minimum elevation: 0 m
Maximum elevation: 2,274 m
The Comoro Archipelago enjoys a tropical maritime climate, characterized by slight daytime temperature variations throughout the year of around 26 °C (78.8 °F) at sea level and by abundant precipitation: 2,679 mm (105.5 in) a year. The average temperature of the sea water is 25 °C (77 °F). There are two seasons in the Comoros: the hot and humid season flowing in from the north-west from November to April and the dry season from May to October. The climate on Mayotte is, nevertheless, noticeably warmer and drier. The climate is also characterized by important local variations in temperature and precipitation according to altitude, relief and the degree of exposure to the elements. Annual precipitation therefore varies in the region of 1,000 to 6,000 mm (39.4 to 236.2 in) and the absolute minimum of 0 °C (32 °F) is reached on the summit of Karthala.