Bloemfontein

topographic map

Click on the map to display elevation.
About this map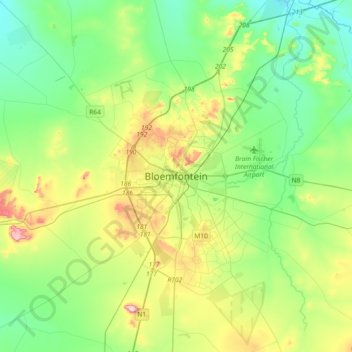 Minimum elevation: 1,282 m
Maximum elevation: 1,597 m
Bloemfontein (/ˈbluːmfɒnteɪn/; Afrikaans: ; from !Orakobab: ǀ'Auxa ǃXās "Bloem's fountain"; in Dutch: "fountain of flowers" or "blooming fountain"; also known as Bloem) is the capital city of the province of Free State of South Africa; and, as the judicial capital of the nation, one of South Africa's three national capitals (the other two being Cape Town, the legislative capital, and Pretoria, the administrative capital) and is the seventh largest city in South Africa. Situated at an elevation of 1,395 m (4,577 ft) above sea level, the city is home to approximately 520,000 residents and forms part of the Mangaung Metropolitan Municipality which has a population of 747,431. It was one of the host cities for the 2010 FIFA World Cup.