Mecca

topographic map

Click on the map to display elevation.
About this map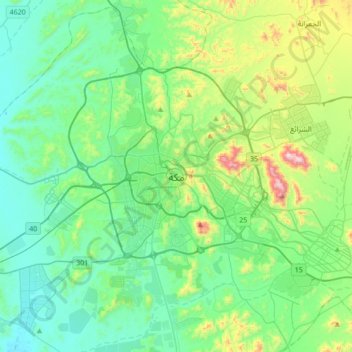 Minimum elevation: 137 m
Maximum elevation: 955 m
Mecca is at an elevation of 277 m (909 ft) above sea level, and approximately 80 km (50 mi) inland from the Red Sea. Central Mecca lies in a corridor between mountains, which is often called the "Hollow of Mecca". The area contains the valley of Al Taneem, the Valley of Bakkah and the valley of Abqar. This mountainous location has defined the contemporary expansion of the city. The city centers on the Masjid al-Haram area, which is lower than most of the city. The area around the mosque is the old city. The main avenues are Al-Mudda'ah and Sūq al-Layl to the north of the mosque, and As-Sūg Assaghīr to the south. As the Saudis expanded the Grand Mosque in the center of the city, hundreds of houses were replaced by wide avenues and city squares. Traditional homes are built of local rock and are generally two to three stories. The total area of Mecca today is over 1,200 km2 (460 sq mi).