Mossel Bay

topographic map

Click on the map to display elevation.
About this map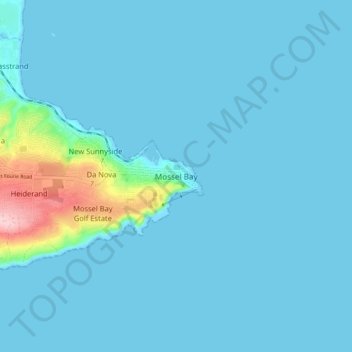 Minimum elevation: -1 m
Maximum elevation: 192 m
To the east, the land slopes upwards towards the wave-cut platform (average elevation 245 metres) that characterises the more lush all-year-round rainfall area of the Garden Route. Here the land is mostly covered by grass and farmlands. The deep sandy soils of the western portion of the municipal area also give way to grass and farm-lands, with large stands of typically dry fynbos which are characterised by, amongst others, the Aloe ferox (also known as the bitter aloe, Cape aloe or red aloe) from which skin-care products are made locally, and the Chondropetalum tectorum (Cape or thatching reed) which is used for the roofing of traditional Cape-Dutch buildings.